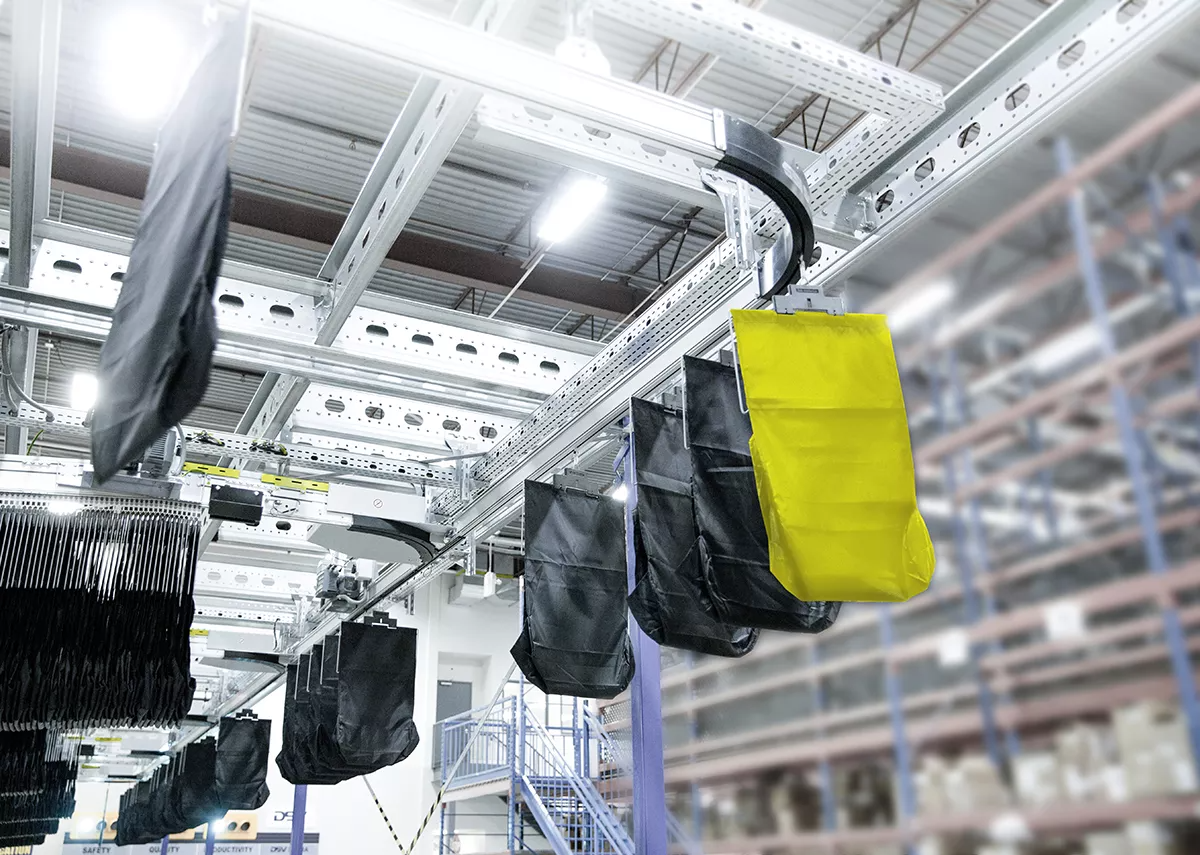 Changes in consumer and purchasing behavior are posing major challenges for many companies. Customers expect permanent availability of products and fast delivery to their doorstep. This increases the pressure on companies to more efficiently meet the ever more complex customer requirements. The need for automation with reliable technological and digital systems also rises, as orders need to be processed quickly to ensure a high level of service. Modern logistics systems such as the pouch sorter SSI Carrier by SSI Schaefer are able to meet these requirements. Thanks to this overhead conveying system, the global 3PL transport and logistics company DSV has sufficient capacity to deal with their customers' exponential e-commerce growth and the massive seasonal order peaks – while handling products extremely gently.
Around the globe, numerous companies from different industries face similar challenges resulting from changed consumer and buying behavior, the turbulent market conditions and the consequences of the global pandemic. More and more consumers are enjoying anytime/anywhere availability and doing their shopping online. In order to remain competitive, retailers require high-performance intralogistics to support store deliveries and end customers' direct orders from a single distribution center. Modern logistics solutions must be as compact, flexible and efficient as possible to ensure fast access to the required goods, deal with changing order profiles, master peak times efficiently and include immediate availability of returns.
The SSI Carrier meets all these complex requirements. The SSI Schaefer pouch sorter is a space-saving and versatile overhead conveying system for the parallel processing of different sales channels. One single load carrier enables the conveying, buffering, sorting and sequencing of flat and hanging goods in one system, while simultaneously achieving high throughput. The automated sorting solution brings customer orders to packing stations in the desired sequence regardless of the order size and ensures effective returns handling, which makes the solution particularly suitable for e-commerce. The SSI Carrier only requires a minimum footprint, ensures highest storage density and offers high scalability and flexible system extension by a modular, individually adaptable design. "The innovative concept of driven accumulation conveyors ensures a very gentle transport of the goods in pouches. This prevents the pouches from colliding with each other, which usually occurs on gravity based declining conveyors. This is key for handling sensitive products and packages, for example in the Healthcare & Cosmetics industry," highlights Dr. Michael Zacher, Product Manager Overhead Conveying at SSI Schaefer.
The core of the pouch sorter is its unique sorting algorithm. The matrix sorter in combination with the dynamic buffer makes it possible to bring items picked in batches from different storage zones in sorted customer orders and provides quick delivery at the packing stations in any desired sequence and within a short timeframe. Thanks to the use of RFID technology and the processing of individual items, the system is designed for flexible order structures and can combine small e-commerce orders, large retail orders, and pick & collect orders for a large item range with minimum product touches.
The SSI Carrier is particularly suitable for e-commerce and omnichannel applications in the areas of fashion, pharmaceuticals, cosmetics and retail. In the pouches, items such as clothes, shoes, cosmetics or household items of up to 2.5 kg are transported.
"The e-commerce business is currently in a state of highly dynamic development. The modular design of the SSI Carrier system offers a cost-efficient solution with high scalability. Due to the intelligent combination of the modules, very high sorting performances of several thousand to several ten thousand pieces per hour can be achieved. This makes the system highly flexible and ensures that it can be adapted to future business volumes at any time. Together with a tailor-made software solution and state-of-the-art visualization technology as well as customized service, SSI Schaefer provides the customer with an overall solution from a single source," summarizes Dr. Michael Zacher.
Best Practice: Automated e-commerce distribution center for the global 3PL transport and logistics company DSV
With the rising demand of consumers shopping online, DSV, a global 3PL transport and logistics company, needed to increase their capacities to deal with the growing number of e-commerce customers. In 2019, DSV had the intralogistics expert SSI Schaefer design and implement a highly automated solution in the existing distribution center in Brampton, Canada. The warehouse serves customers from the Healthcare & Cosmetics business segment who distribute in Canada.
As a general contractor, SSI Schaefer created a tailor-made logistics solution including turnkey implementation for DSV. The dynamic pouch sorter system SSI Carrier is also part of the DSV innovation strategy. Orders are picked in batches and transferred to the pouch sorter with the automated guided vehicles WEASEL®. At the pouch loading station, each item is placed into a pouch individually and afterwards buffered until an entire order batch has been formed. The batch is then transported to a matrix sorter to sort the orders according to the desired sequence. At the pouch unloading station, the sequenced items are taken out of the pouches and are packed into shipping cartons.
The overall solution not only allowed for the existing operation to continue, it also enabled the e-commerce capacity growth that DSV needed to ensure both a smooth online fulfillment as well as meeting peak demands.
"The biggest challenge we had to face was dealing with the exponential e-commerce growth of our customers. The pouch sorter SSI Carrier gave us the necessary capacity to deal with this growth and the massive seasonal order peaks.", explains Rob Chanona, Managing Director at DSV Solutions, Canada.
Reference *06082021